Final Update:  We've done it!
Thank you for all your donations!
Purchased Monday November 2nd 2015!
---
Original Post:
Family and Friends of Bitcoin,
We need your help to raise Bitcoin awareness in Downtown Portland!  How? By equipping a Neon Bitcoin Sign to the Isabel Pearl. Technically listed as Isabel's Cantina, this PDX fusion Staple is located on the busy intersection of 10th street and Flanders, downtown in the Pearl District.  Known for their delicious Latin Fusion Inspired food the Pearl would serve as an excellent beacon to promote Bitcoin.  Jorj_X_McKee, and I are looking to raise $375 to make this sign a reality.  All proceeds donated beyond the campaign goal of $375 will be split down the middle and donated to both Wikileaks and to the Ross Ulbricht Legal Defense Fund. This effort would only require 19 of us to donate $20, 40 of us to donate $10 or even 75 of us to donate $5. We need your help to spread bitcoin awareness today!  
Donations will be handled in a multi-sig wallet that is controlled by Jorj and I and will be only used towards the purchase of the Neon Bitcoin Sign and shipping for it.  Once the funds are raised I intend to acquire the sign from Cryptocables and to make a video post showing the sign in all its glory. This fundraiser is on till Christmas.  If we can reach 80% of the funds but under the full goal, Jorj and I will fund the remaining shortfall.  If the campaign fails to raise  80%, we shall divide the donations between Wikileaks and the Ross Ulbricht Defense Fund.  If you have any questions, concerns, or comments, please leave them below and I'll address them personally.  
Donation Address: We've Reached our Goal!!!  The public facing address is kept here in these brackets for transparency purposes:<36Q66VJmuWtZrsrwSNtSUBBcRezBaLRBxA>
Update 1:
Thank you so much to everyone so far who has donated!!! You're making this a reality for PDX!  We've raised 0.57816363 BTC in just 24 hours!  Through local champions we've raised an additional .08 BTC on other addresses linked to the wallet bringing our total to: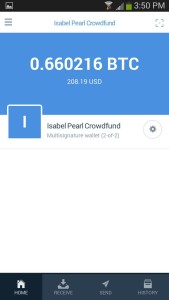 We're Just shy $175 more to get 24-7 BTC promotion in the heart of PDX!  I'll keep you all updated as we progress!  More coming soon!
Update 2:
As per Jorj's request I've highlighted out the donation link as we've raised enough to move forward!  Again, thank you everyone who has contributed to this fundraiser, we've done it!