I said I'd keep you guys up to speed on my trade activity so here we go!  To start out I got rid of most of my straggling balances of BlackCoin, BetaCoin, and Hydro-Branded Mastercoin.  I've also decided to buy into Dogecoin (about 12K doge – maybe I'll bump it to 100K Doge) based on a speculated Fomo run on LTC jealousy.  I've already got a bit of LTC so I don't feel the need to keep more stocked, depending on EZcoins price – I'm likely going to gradually slide out of that coin over time I think, its been holding its value quite well, but I don't like the idea of having a lop-sided portfolio.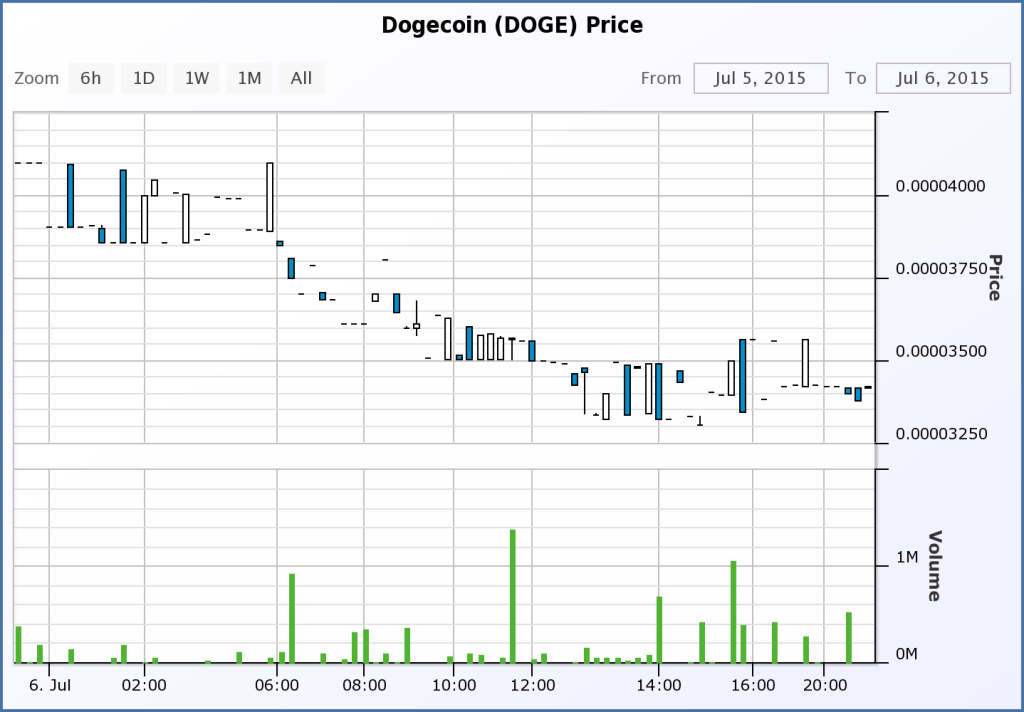 As you can see there's a dip in value here, signaling its been oversold, I think there's a good chance of runup on the short term here – I'm just speculating, don't bet your life savings on my words here.
I haven't done any trading since I last wrote the article about Cryptsy, but since I decided to look into the state of my account, I felt compelled to make a few more moves before the next large run up, slated to occur in LTC mid-next month.  I had some Doubloons I was about to part ways with, but I see that I tooth and nailed trying to build up that balance and they still seem to carry a bit of value so I think i'll hold onto those for now.
Looking @ ADT, its a no brainer that was a nice one time blip for me to gain from…its been dead in the water for a while now it appears.  So I'll show you the signs I'm seeing: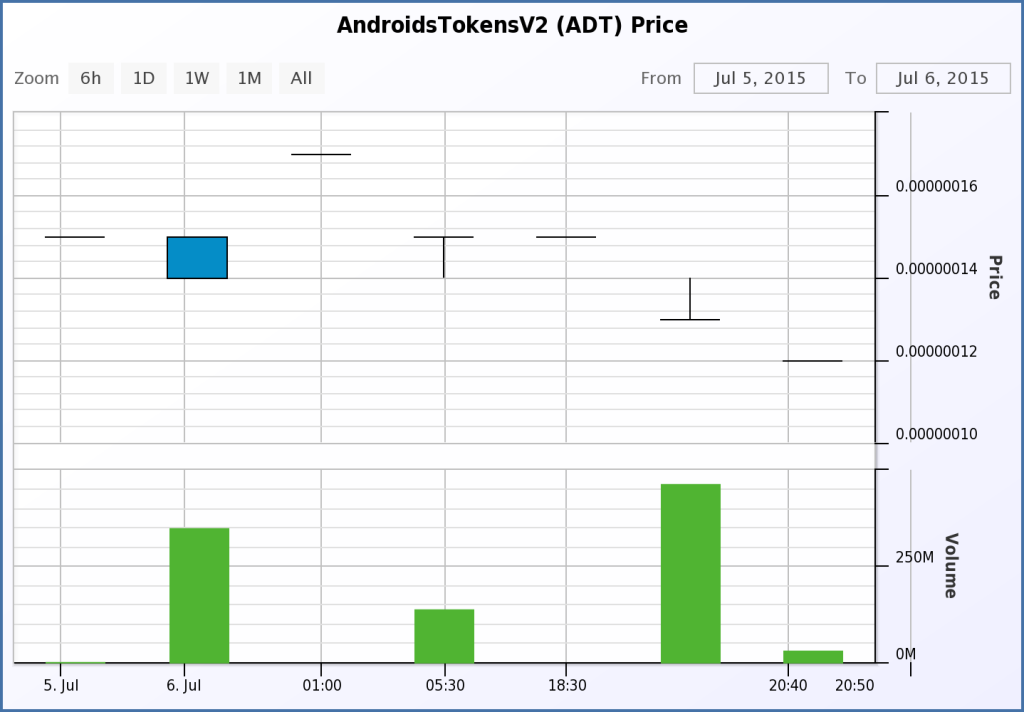 This is an entire day's worth of trading data…its looking dismal – compare it to Dogecoin above which shows a RAMPANT amount of activity for the same one day.  Also:
See how there is a TON off available coin for purchase or for Sale, paired with low trading volume, this is either a ton of bots piling on their orders together, a way of cryptsy keeping the Androidtoken market afloat with puffed up sell orders to pocket money off a junk speculation coin…I mean we could speculate all day what this could be, however one certainty remains;  its a dead market with dead volume.  My 25MM coin balance is doing nothing here, I could add onto that top sell order and bump the wall up to 8 LTC if I so chose then I could turn around and pickup some more coin for the cheap if someone came to dump theirs – Maybe the ADT will sell, though I doubt it – probably fractional amounts gradually over time.  Although that is a lot of coin to be holding onto.
FYI I've made the choice to dump about 27 LTC worth of EZC so I can have more LTC heavy portfolio…actually to be honest I'm holding onto waaay to much EZC so I decided to try to short the markets I'm now 12 LTC and .28 BTC richer though Ideally I want to see my buy orders purchased and those earnings to be reinvested back into many many more EZC to repeat later – or perhaps to do a smooth casual exit over time as I have been doing for the past couple years. (its LTC enough but I'd like it to be closer to LTC so I can short and long against BTC more easily).
With all the blood that was shed from my bearish behavior (I'm usually bullish and like to buy stuff)  i converted my slivers of BTC and LTC towards NXT and DOGE, respectively.  I see that there's currently a pump of 5000 satoshis on NXT so I'm looking at the dump price of perhaps 4500 satoshis, pocketing me about 200ish or so with the fractions of dust I got from liquidating the stale stuff.  I don't have the heart to do it because its a nice shiny number of 32K but I need to wake up from reality and eventually cut my losses on Americancoin (I knew it was a dumb move when I bought it, but at the time I was playing martingale with dabbling into many different smaller coins – at the time it was a small fry buy, but this was before grandcoin hit the scene – GDC I think began at something like 15 satoshis a piece so it was a no brainer to buy it at a miniscule amount then sell it at 120 satoshis a piece.
I bought 800K Tix w/ LTC after playing around with them and making a quick 5 LTC off them around Thanksgiving 2013.  Otherwise I've been sitting on these forever, So I'm dumping those.  In my eyes they're the reddcoin or reddit notes of their time, a joke to be held so I'm 86ing those.  Turned those into a Quick .79 LTC…Does anyone even trade actively on the XRP markets? I'm holdin 34 XRP apparently and its burning a digital hole in my digital balance sheet!
Leave your comments below and advise how I should invest it 🙂
I'll leave you folks with a nice chart of Litecoin dumping as I type this…goodbye liquidity 🙁
till next time your traders of cypto!